| | |
| --- | --- |
| | In This Issue |
In the winter months, there's nothing like entertaining at home. It doesn't have to be an evening by the fire to make family and friends feel welcomed. Any time of day can be a great time to entertain. This month's party themes and ideas are sure to help banish Cabin Fever.

Tax season may be far from your mind but now is the time to get things in order. If you dread paperwork, I prescribe a little Office Humor. Read on for more on these and other ways to brighten the dark days of Winter
Budget Friendly Entertaining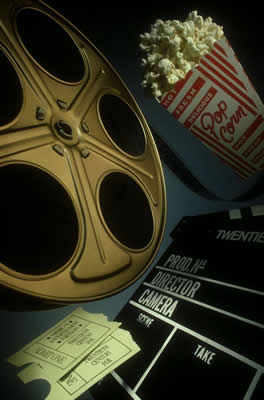 Are you going out less to save money? Watch your budget and entertain at home. If this is a fear-inducing concept, relax. For such a short month, February has a wealth of holidays, special observances and traditions that can give you a number of excuses to exercise your creativity and have fun.

If you are new to entertaining or don't very often, it's easy to pick up the basics and develop your own style. A theme party immediately gives you and your guests a focus and one that is attached to a holiday makes it even more special.

Consider your options. A dinner party may be less expensive to host than a cocktail party once you figure in multiple appetizers, drinks, glasses or cups and napkins!

Try a Movie Night for President's Day and watch a film with a plot featuring a president or one based in Washington.

A Sports Night can draw a crowd to watch a big game or it can be a smaller gathering of friends and family. It can be a chili cook-off with everyone bringing their favorite recipe to share and you, as the host, supplying beverages and sides. It can also be as simple as popping a hearty casserole (home made or frozen) into the oven and serving a salad, hot bread, and dessert to finish the meal.

This year the Super Bowl conflicted with having a Groundhog Day party the day before the event. Celebrate with a spur of the moment party. Fix something quick and easy, watch the movie Groundhog Day, and have everyone guess if Punxsutawney Phil's prediction will be correct. Mark it on a calendar and in six weeks gather again to give out small prizes for the ones who guesses correctly.

Mardi Gras parties can range from pancake breakfasts or brunches to full blown costumed affairs.

Valentines Day can be a romantic themed dinner such as "An Evening in Paris", a Coffee and Decadent Dessert gathering or a Famous Couples Party

Don't forget the Chinese New Year! Co-op with friends and bring together your favorite take out dishes for sampling or have appetizers out for nibbling while you make a stir fried main dish. Remember to include fortune cookies!

Every month has at least one holiday or observance. You can even invent your own holiday. Decorations don't have to be extravagant to set the mood . Refreshments can be handled as simple co-op or BYO dinners, appetizer or dessert samplers, or the 4 major snack groups and beverages for casual game or movie gatherings. Budget entertaining doesn't have to be boring so let your imagination and creativity loose and have some fun!

Free Organizer Program-Cozi!
Need help organizing your family life? Cozi is a free web service that helps you manage your calendar, track shopping and to-do lists, organize your chores, and stay in touch with your family. You can access Cozi from home, work, or on the go-with any computer or mobile phone. To read more about it and to sign up for a free, no down load account click below.

Office Humor
Last month I suggested using colorful file folders and storage pieces to help lift your mood when you are doing paperwork in your office or study. You might want to inject a little humor, too, and these file folders will do just that.

Other styles and colors are available so you can have an assortment for your office and to give to someone you know who could use a little office humor.

Stop and Start
Are you plagued by unfinished projects and disorganization in general? Most people have been in the same situation at least once in their lives. If this is becoming a chronic problem, now is the time to call a halt to it. It's time to stop chaos in it's tracks and start taking control.
Attack the chaos now. It starts with the right mind set.

Deal with it Immediate and easy to dispose of chores or paperwork can be handled first, then move on to the next most important. If you have a large project, break it into manageable tasks.

Sort Clutter can keep you from accomplishing even the most simple tasks. Clear out all but the essentials. What's left may be sorted into Keep, Donate, Pitch, and Archive boxes. Once you have made your decisions, don't second guess yourself. Have a box marked "Parts" for the miscellaneous pieces you will find. Don't spend time looking for the "puzzle" that goes to each piece. It will turn up eventually and you'll know just where to look for the missing piece.

Set a Schedule Make time to keep yourself on track. Nothing contributes to disorganization as much as lack of time.

Get help Yes, you can conquer chaos yourself. If you have really tried and not made any progress, or if this is becoming a constant problem, professional help is needed. An organization consultation can identify the problems and help you side step your personal traps that are keeping you in this situation.
I offer classes on organizing as well as individual consultations to help you achieve Chaos Control. While the year is still new, give yourself the gift of time and peace of mind by finding out how.

Call me at 703-689-9886 or email faulknerredesign@aol.com.

Start a Garden Journal
If you are a gardener, or would like to be, there's nothing like a journal to track the progress of your efforts and to inspire you with ideas. The winter months are the perfect time to start a journal, not just because you may have more time to plan while you are indoors, but because you can observe the gradual transformation of your landscape as Spring approaches and notice problems early while they are easier to solve. Besides, gardening and seed catalogs will be arriving in the mail soon and you'll want to be prepared!
It's a particularly good time if you are a new homeowner, for you may see some perennials emerging for the first time. If you are about to sell your home, you may want to take photos of your garden as it goes through its phases to show prospective buyers.

Home Depot has an online garden club that provides information and tools, including articles on keeping a garden journal. Click on the link below to read more about it.

Who Knew?
Homeowners should have their electrical systems professionally inspected every three to five years, especially if fixtures and appliances have or will be added, and should test the GFI outlets using the test/reset button at least twice a year. But obviously at the first sign of a problem, like lights flickering, circuits tripping or an outlet sparking, call an electrician.

Before and After Video
An historic house in Herndon gets a living room makeover in this before and after video.

The Case of the Missing Link-Colorful Organizers
Last month I mentioned injecting a little color into your office or study and included a link. But somehow the link disappeared. It was found lurking with the photo-if you clicked on the photo, it would have taken you to the web site. So let's try it again. Below is the link to the organizers from Horchow-and now at least one is on sale!

About The Redesigner's Notebook
The Redesigner's Notebook is devoted to tips and articles relating to interior redesign, decorating, entertaining, organizing and related subjects.

If you have an interest or question that you would like to see addressed, or a community event that you would like to see included that relates to these subjects please contact me. Your comments and suggestions are always appreciated!
~ Pam Faulkner, Faulkner House Interior Redesign

Quick Links...